May the Ayodhya temple be not merely a palace but a symbol of Vedic knowledge. The Vatican, the Makkah Tara Ram Mandir should be formed. Baba Ramdev of Patanjali Yoga Peetha in Haridwar said, "I want to make it a great pilgrimage center for all Hindus."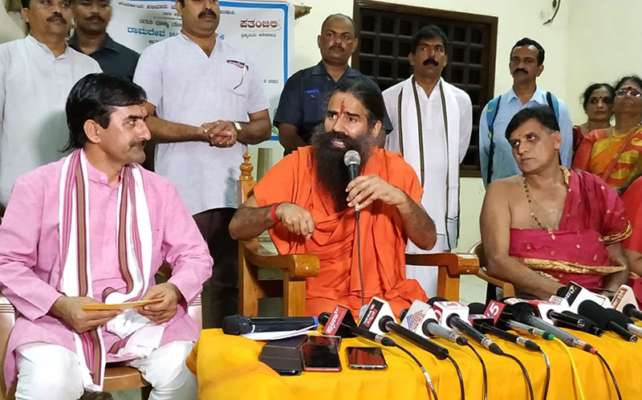 Ramdev, who arrived in Udupi tonight to speak at a press conference at the Kanakapura Mandapam of the Sri Krishna Math, said he would attend a large yoga camp headed by the alternate Palimaru Math and the Patanjali Yoga Peetham for the next five days near the parking area of ​​the Sri Krishna Math in Udupi.
He wanted to be Ayodhya Ramathirtha or the symbol of Vidyadhara tradition. The fruit of many great men's movements in the country. Responding to a question on whether the trust would be formed with the involvement of all these greats, Rama advised Janmabhumi Nas.
"Let the Prime Minister do the rituals," he said, referring to the Prime Minister Narendra Modi.
Although the government cannot directly build a palace, the Prime Minister has not hindered its implementation. Prime Minister Modi said he would work as a representative of the Hindu heritage.
Let the mosque be magnificent: Let the mosque be built by excluding 67 acres of land belonging to the temple at Ayodhya. Otherwise, there may be unrest again in the future. May the mosque be magnificently built in Ayodhya. The DNA of Hindu-Muslims is the same in our country, he said.
Asked by Asaduddin Owaisi's statement that Muslims do not need five acres of land, Owaisi was in an upset mood. Poison in his mind. He criticized this as an attempt to create conflict among the Hindu Muslims.
Thinking about past conflicts is now fruitless. Goodwill and equality should be our priority. Owaisi wants to become the second Jinnah. But Ramdev said he would not succeed in this.
The press conference was attended by Prahlada Acharya, the manager of the alternate Palimaru Math, Bhavrilal Arya, Karnataka State President, Balaji Raghavendra Acharya and Sujatha.